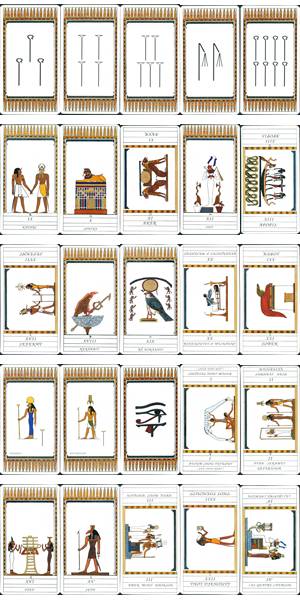 Arcanes d'Al Kemit
by Jen Piao, Fondation Cornelius Celsus. 1976.
The images are copied from various Egyptian papyry and temple wall paintings. Some images are in landscape format. Sold for the profit of d'Acupuncture Sans Frontieres.
A book by Jacques Pialoux 'Le 8ème Jour de Ptah - Traité des 22 arcanes de la science d'Al Kemit', Paris 1993, seems to comment on these images.
"Working for more than forty years with a view to a synthesis between the Eastern and Western cosmogonies expressed in traditional teachings, I was naturally led," says Jacques Pialoux, "towards a return to the sources, that is to say on the one hand towards the religions of ancient Egypt, the Hebrews and the Celts, and on the other hand towards that of the Taoists, Hindus and Buddhists who were born in the East. This truth finds its culmination in the Egypt of the pharaohs with the twenty-two arcana of alchemical science (of Al Kemit), these twenty two which are for the Chinese the twenty two celestial and terrestrial energies and for Kabbalah the twenty two letters of the sacred alphabet. I tried to let their teachings express themselves along with all their poetry."
Early deck from late 1970s. Rare and difficult to find. Limited edition of 500.
78 cards 130x70mm.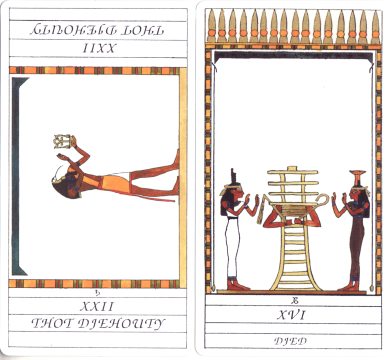 USA and Worldwide
Pay in US Dollars through
your Credit Card or Paypal system
UK
Pay in UK Pounds through
your Credit Card or Paypal system
$220
Price includes tracked postage and packing.
£140
Price includes tracked postage and packing.